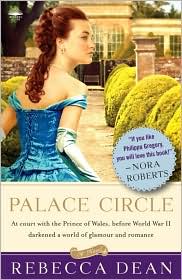 Flap copy from ARC:
"Delia Chandler, an eighteen-year-old Southern girl, marries Viscount Ivor Conisborough just before World War II and becomes part of the Windsor court. It's every girl's dream come true. But Delia is jolted from her pleasant life when she realizes, after the birth of her two daughters, that Ivor chose her only to bear an heir to his estate. Shortly thereafter, she begins an affair with her husband's handsome, titled, and frequently scandalous best friend."
This book is a hard one to review, especially because I was so primed to enjoy it before I began. Unfortunately, the more I read, the less I liked the Delia and the less I enjoyed the novel. Both Delia and the plot itself remained to superficial for me, and I found the vast leaps in time grating. The best part of the novel by far was the insights into the Windsor court and into the Egyptian colonial society of the time, but even those highlights were not enough to carry the narrative for me, especially as I'm not sure how historically accurate they were.
I was ultimately disappointed by Delia's decisions, and by her blind refusal to see how much her actions blighted the lives of those around her; honesty would have been by far the best policy for all of these characters. The narrative also moved incredibly slowly which made it even harder to sink into the story. I gave this one three stars, and believe it might make a decent vacation read.